History of St. Leo's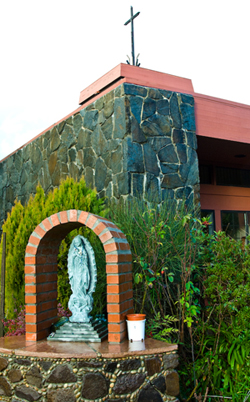 Construction of St. Leo the Great Catholic Church was begun in 1966. This was the first parish created by The Most Reverend Leo T. Maher, D.D., the founding bishop of the new Diocese of Santa Rosa. St. Leo's first pastor, Father James Monagle, guided the church through its conception, construction, and the first ten years of its parish life. In July 1979, Monsignor John O'Hare appeared and became its beloved pastor for twenty-one years. He developed a deep sense of community for the congregation, innovative liturgy, and instituted many ministries, including ministry to the Spanish-speaking. His spirit has remained with the parish since his retirement in 2000. In that year, Fr. Larry Carolan was appointed St. Leo's third pastor, and shared his many gifts with the parish community, especially in his love for music and liturgy. Fr. Jojo Puthussery was appointed St. Leo's fifth pastor in 2011.
St. Leo's has also been served by several associate pastors over the years, most notably by two beloved Franciscan priests from Italy-- Fr. Sixtus Cavagnaro, O.F.M., and Fr. Aurelio Villa, O.F.M.
St. Leo's has a long tradition of welcoming liturgies, varied ministries, continuing adult education, interfaith outreach, service to the community, and global awareness. This special spirit is expressed in the church's striking architecture, which invites every believer to encounter the Risen Lord in the Eucharist, in the worshiping community, and in the panorama of God's creation visible from inside the sanctuary.
"They came to the church to share God, not find God." Alice Walker said this in The Color Purple. It seems to apply to St. Leo's faith community.
Succession of Pastors
Rev. James T. Monagle (1967-1976);
entered into eternal life May 1, 1990
Rev. Msgr. Gerard J. Brady (1976-1979)
Rev. Msgr. John J. "Jack" O'Hare (1979-2000);
entered into eternal life June 7, 2006
Rev. J. Lawrence Carolan (2000-2006)
Rev. William P. Donahue (2006-2010)
Rev. Jojo Puthussery (2011-present)